On Sunday, September 17, 2023, the Caymanas Golf Club, St. Catherine, was the site of assembly for some 43 Christian couples from across the three parishes of Central Jamaica Conference. This evening of elegance dubbed, Couples Full Circle, began at 2pm with a red-carpet entry and photo session on the Glam 360 photo stage provided. Later, Master of Ceremonies, Dr. Vincent Peterkin, declared the event open and intriguingly wove the three-hour long programme into a stunning success.
Under the Theme: Mutual Devotion: Attaining Love's Zenith, the CJC's Director of Family Ministries, Pastor Horace Wilson, led an inspirational devotional exercise embellished by soloist, Mrs. Stacy Wellington Williams; and guest presenters, Dr. Roy Dennis (Family Ministries Director, JAMU) and Mrs. Keisha Dennisur-Dennis creatively engaged the couples with Keys to Successful Marriages: tools to sharpen communication, keep romance alive, and ascend the spiritual ladder together.
Executive Secretary, Pastor Howard Grant Langley, in his greeting, commended the couples for their commitment and shared insights on the keys to a strong and thriving partnership. He emphasized the importance of effective communication, understanding, and mutual respect. Communications Director, Mrs. Kimarley Walker Medley, also shared that the event was a great way to encourage couples to continue to invest in their relationships, stating, "Love is not a destination but a journey. It's about growing together, learning together, and evolving together."
The Full Circle concept aimed to promote a rounded package of devotion, education, motivation, and celebration for couples. During a sumptuous three-course meal served by the Caymanas caterers, the T4 musical band provided delightful entertainment. Photos were featured in the well-received Couples Candid Moments, and special tokens were presented. The presentations included recognition of the longest married couple in attendance: Mr. Valbert and Mrs. Iris Oliver, married 52 years.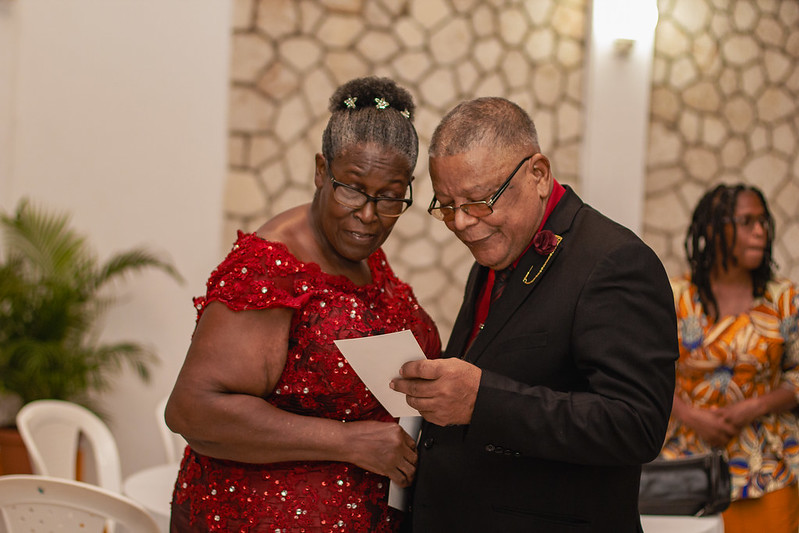 The Couples' Declaration of Love, sealed with kisses and a waltz, brought the curtains down on an evening well spent. After the MC pronounced the benediction, each couple was gifted with a sweet take-home parcel. The Family Ministries Department of Central Jamaica Conference were coordinators of Couples Full Circle 2023.
Pastor Horace Wilson, Family Ministries Director, CJC shared that the event had consummating significance, held soon after Family Togetherness Week (September 3-9), "It is our prayer that spouses will commit to going all the way - full circle, with God and each other to attain the highest joy possible in faithful, loving marriages."
Attendees left with a deeper understanding of their relationships, inspired to invest in their love, and equipped with new tools to navigate the ups and downs of life together. The Enrichment Couples Seminar is sure to remain a must-attend event for couples seeking to enhance their relationships for years to come.
Click here to view Gallery.
Central Jamaica Conference of Seventh-day Adventists Comment Guidelines: